Prepare Best Strategy to get Maximum Marks while Examination:
The pattern of scoring in biology subject is specific in board exams. All of your answers give in an examination must be follow a rule, synchronization with pattern and informative. All the subsequent questions and its specific answers are expected by students. The answer will be written in points according to the marks in given. As a result, maintain the length of the answers including keywords, important facts, labeled flowcharts, diagrams, tables, figures etc. Finally, the time management is an important role play for each student appearing in the examination. They should try to complete his examination in the particular time interval.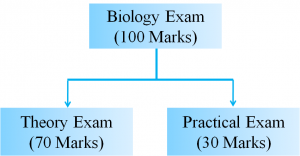 Reach your examination center before the schedule of time, avoid the last minute chaos and confusion
Always be positive and confident all the time in examination time.
Read all the questions in the examination carefully. Give answers in reading all the questions including facts flowcharts, tables as required and what the examiner has asked.
Keep the answer sheet neat and clean while examination, it gives the positive impression to the examiner
When completing the examination, before hand over answer sheets to the examiner, review all of your answers be careful. Also, underline all the main points or facts.
A Work Model Strategy while Studying :
| | | |
| --- | --- | --- |
| Chapter | Marks Distribution | Important Tips |
| Reproduction | 14 | Different processes are prepared to flow charts, Solve all Practice Diagrams with questions and prepare all definitions. |
| Genetics & Evolution | 18 | Complete all definitions, theoretical and practical terms in detail. |
| Biology in Human Welfare | 14 | Prepare all single line, multiple lines & essay type questions. |
| Biotechnology and Its Applications | 10 | Know the basic process of Biotechnology, Understand the short answers with the solution of application-based questions. |
| Ecology & Environmental Issues | 14 | Learn and read all short and long type definition and the question of current issues. |
Focus on Sample Papers and NCERT Textbook:
To get a good marks in biology, you should widely read all the related textbooks. Practice all old sample papers in the time frame. Because it will helps you to remember a long time but will also give you an advantage of other related questions. In addition, reading NCERT Textbooks helps to score good marks in Board of examinations (Central Board of Secondary Examinations). Also, take good advantages in other competitive examinations. Before the examination day, always taking a full rest whole night. So that your brain can get totally refreshed and relaxed. Before the final date of examination, don't read any new topic. More and more focus on important revised topics of your textbook and notes. In lastly, you have the assurance that "You Can get Better in Examination". Always develop a positive approach towards it. Also, make a Self-confidence believes in you in crucial time add to your efficiency. Good Luck for the examination.